Home




The Mission
A tour of Old Mission San Miguel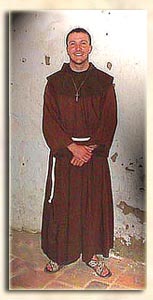 Welcome to Mission San Miguel, in San Miguel, California. I am Brother Antonio, a novice (which means I am just beginning to learn how to be a Franciscan Friar) at Mission San Miguel. I will be your guide today on this tour of Old Mission San Miguel.

Remember, at any point in the tour, you can click your mouse on the picture to see a map of where you are in the Old Mission. Try it now!

When you are ready to start, click on the text below.